William G."Bill" White (#0-1284255)






Picture taken 1943




Place of Birth
Date of Birth
Rank
Platoon
Company
Battalion
Regiment
Division
Decorations

Carmel, California
October 27, 1910
Major

Hq
3rd - 1st
330th - 331st
83rd Infantry
Combat Infantryman's Badge, Silver Star Medal with Oak Leaf Cluster, Bronze Star Medal, Purple Heart Medal with Nine Oak Leaf Clusters, France Croix de Guerre with Etoille D' Argent (Silver Star), ...

William Gail White enlisted the Marine Corps in 1930, where he served for 11 years and when his enlistment was over in 1941, he joined the Army as a private of the 32nd Infantry Division. William White fought in World War Two and the Korean War.

(click on the LINK below for more info)

Biographical Sketch
"Mad Major"
William G. White




During his service in wartime, he received ten (yes... 10) Purple Hearts. Nine of those Purple Hearts were from World War II in Europe and one from the Korean War.

(click on the MEDALS below for more info)

Rosslau, Germany, May 1, 1945, Meeting between Russians and 83rd Infantry Division.
Thanks to his son John White for the story and sharing the photos about his dad.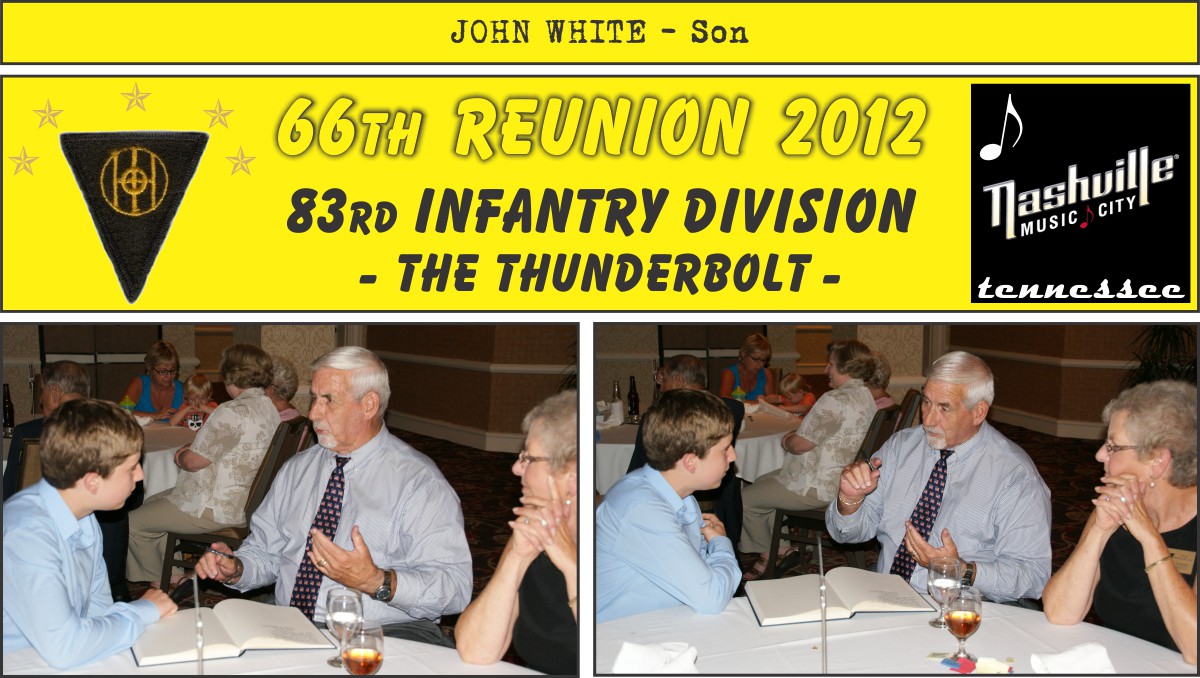 John White signing in my Scrapbook. Me, John and his wife Bonnie at the farwell diner during the 66th Annual Reunion of the 83rd.