National Liberation Memorial Schumann's Eck, Wiltz, Luxembourg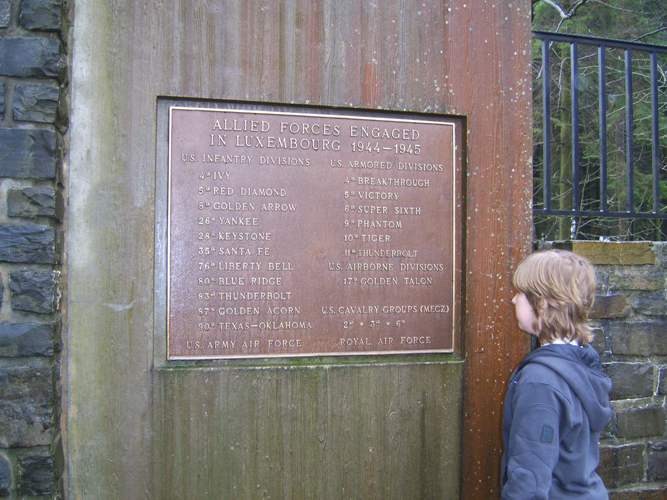 Monument dedicated to the Allied forces that fought in Luxembourg in 1944-1945. The monument is situated at the National Liberation Memorial at Schumann's Eck in Wiltz, Luxembourg. It honors the 4th, 5th, 26th, 28th, 35th, 76th, 80th, 83rd, 87th and 90th US Infantry Divisions, the 4th, 5th, 6th, 8th, 9th, 10th and 11nd US Armored Divisions, the 17th US Airborne Division and the 2nd, 3rd and 4th Cavalry Groups (Mecz). The National Liberation Memorial was inaugurated on the 50th Anniversary of the liberation of Luxembourg. The monument consists of a ruined house to remember the fierce fighting during the Battle of the Bulge and multiple bronze plaques honoring all the Allied forces involved in the fightings. There also is a walking trail that goes past numerous fox holes and brings you to a monument dedicated to the soldiers who died in these woods. The monument stands on the exact spot where a temporary grave for approximately 160 Germans and a few Americans was located.

I visited Schumann's Eck Februari 22, 2009.